Editing
Edit scanned documents and PDF
Editing digitally is more efficient than rescanning. With PixEdit® Desktop, documents, pages and graphics can be changed and improved. Repetitive tasks can be easily automated through recording and playback.
Combine different file formats to PDF
Document and page composing
PixEdit® Desktop processes entire documents, not just scanned images. It is easy to combine documents from different file formats such as PDF, Word/docx and jpg. The files do not need to be converted before putting them together.
With a complete overview of structure and content, it is quick to change page order, add or delete pages. The reorganization takes place by "cut-and-paste" and "drag-and-drop".
The possibility to combine both scanned and digitally born material gives increased flexibility in document composition and flow. This saves a lot of time that would otherwise be spent on printing and rescanning documents.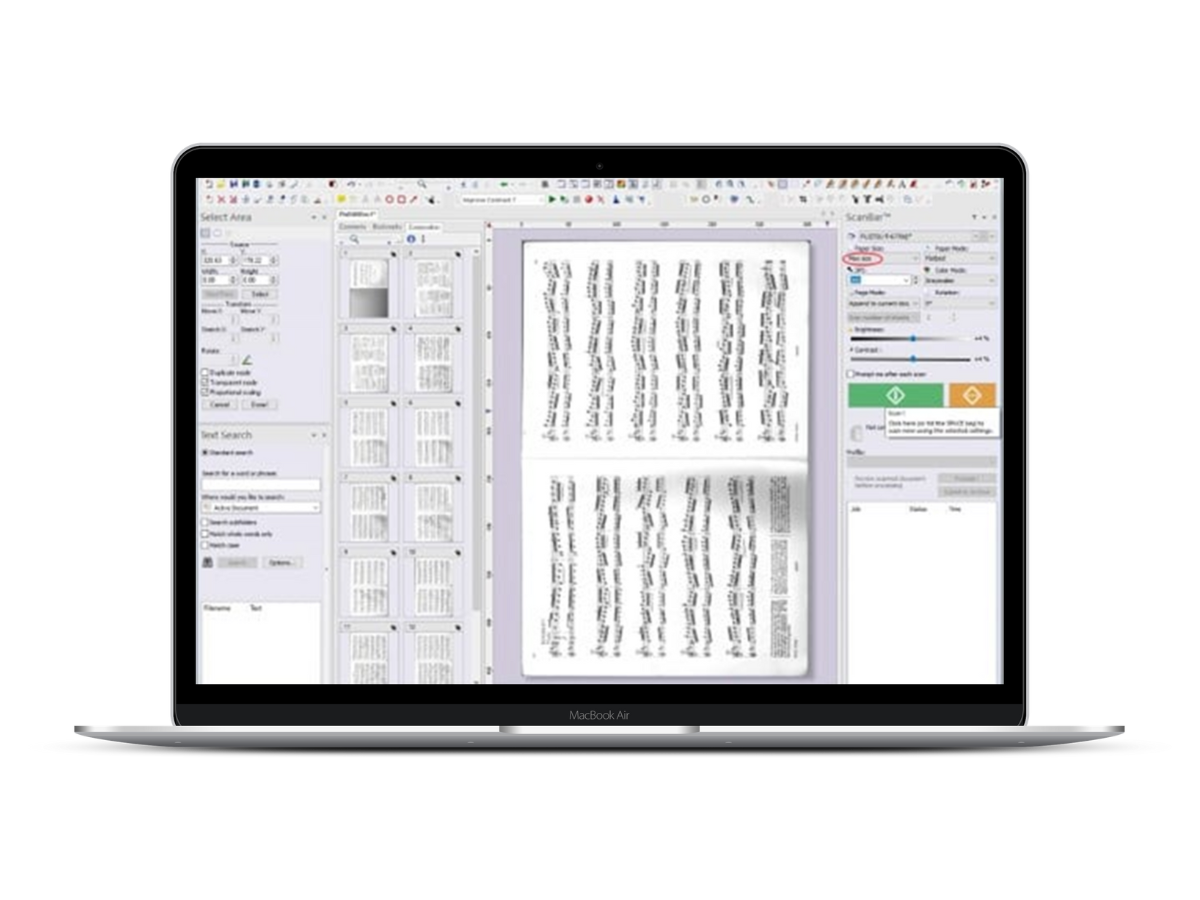 Reuse scanned material
Graphics editing
Avoid costly reconstruction of drawings, documents or books with digital editing of scanned material. With PixEdit® Desktop, cleanup, image enhancement and editing can be done on individual pages, a selection of pages or all pages at once
Drawing tools
Edit images and insert new text and shapes. Use freehand drawing or erasing to retouch details.
Cleanup
Scanned documents usually have various types of "errors" when they first appear on the screen. This can be black edges, spots etc. Often the automation can clean up most of this, but occasionally there will be need for manual work to get an acceptable result.
Multi-page tools
Manual cleanup work in documents with many pages can be very time consuming. PixEdit® has some very powerful tools to help you being more effective.
With the Stack Image, you can look at many pages at the same time. Imagine each page is a transparent and they are laid on top of each other digitally. You will then quickly see general problems like black borders, odd sized pages, amount of noise, skew, etc. Many of these can be fixed in one go with PixEdit®'s multi-page features like noise filtering, removing black borders, automatic deskewing, margin cleanup, etc. Other things must be fixed page by page, but with Stack Image, it is very easy to see which pages need to be worked on.
Image enhancements
Scanners rarely deliver "perfect" documents. The original could be bad due to photocopying or fading, the scanner might not be top-notch, etc. With digital image enhancement tools, you can, to some extent, make up for this even after the document has been scanned and saved as a file. With PixEdit® Desktop, you can do all these useful enhancements on a whole document or collections of pages in one go!
Adjust brightness and contrast to improve readability
Adjust color balance to neutralize a color cast on the pages
Clear or whiten the background on dull documents
Sharpen images that are slightly out of focus


DocWash™
This special cleanup tool in PixEdit® Desktop allows restoring of old documents that are in such bad shape, that any automatic scanning and enhancement process will fail to preserve all information. Using this tool, you can go over the document manually with a "digital sponge" and wash small or large parts of the document individually.
PDF Bookmarks
A bookmark is a link to a certain document page or area and is similar to a hyperlink. In PixEdit®, all bookmarks are shown separately on the left side of the document, and they can be conveniently used as a table of contents. When you insert bookmarks in a document, it will make navigation easier and readers will be able to quickly find what they are looking for.
When working with scanned PDFs, PixEdit® uses OCR (optical character recognition) to give you suggestions for bookmark names. This minimizes manual typing and helps you build a table of contents in a very efficient way.
Editing bookmarks is easy and intuitive. You can use standard cut, copy and paste commands or you can use drag-and-drop. There is also unlimited undo and redo to help you if you make mistakes.
Safely removing sensitive information
PDF redaction
The redaction tool in the PixView® and PixEdit® Desktop applications provides a secure way to redact digitally born and scanned documents. It will not be possible to retrieve redacted text.
Collaboration in the document workflow
PDF Comments and markups
Adding comments to PDF documents is productive for facilitating collaboration and interaction between people. They make it easy for users to exchange ideas and information on the same document. In PDF, annotations and drawing markup is stored completely separate from the original content. Hence users may add, edit and delete comments at any time without interfering with the original.
Sticky notes and highlighting
Sticky notes in a PDF are very similar to paper Post-it notes in use. The note is marked with a small icon, so it doesn't cover the text underneath. When a reader double-clicks the icon, the sticky note appears where you put it.
The highlighting-tool is also used pretty much as you would use a real fluorescent highlighter pen. In a PDF you can also add notes to the highlighting, which appears when a reader double-clicks it.
Markups
These are typical redline markings that resemble those done on real paper with a pen. The tool includes underlining text, strikethrough text, lines, boxes, and circles.
Time saving features
Automation of repetitive tasks
Do you often do the same sequence of editing operations over and over again, page by page, document by document? You can increase efficiency enormously by using the PixEdit automation features.
Batch Wizard
With this tool you can improve, optimize and convert existing archives of scanned documents. A simple user interface will guide you through the necessary steps to process multiple documents in the same process.
Macros
A macro in PixEdit is a sequence of editing operations. The operations are "recorded" and repeated by "playing back" on selected pages or documents. The commands can be, for example:
Deskew
Image enhancement
Reorganization of pages
Copying, moving or deleting areas on a page
Insert logos, text or other graphics
Macros can also be combined with the Batch Wizard, that is, a macro is executed on all documents that are processed with the Batch Wizard.